| | |
| --- | --- |
| Posted by GainesFOM on May 19, 2016 at 11:45 PM | |
F.O.M. Members Attend Corpus Christi TAM Conference
By Sam Holbrooks
Representing both the Gaines Gaines Museum (Seminole division) and the non-profit Friends of the Gaines County Museum, six Seminole residents travelled to Corpus Christi on April 6-8 for the annual meeting of the Texas Association of Museums (TAM). While some TAM business is conducted at the annual conference, the three-day event serves primarily as a continuing education program for attendees to be introduced to new ideas, concepts, and technologies involved in the operation and promotion of both public and privately held museum properties.
Each meeting is conducted in keeping with the TAM's Vision Statement, "to serve our museum community by nurturing and training museum leaders, developing and celebrating the field, and voicing the public worth of museums."
Attending this year's conference, held in the main ballroom and several meeting rooms of the Omni Hotel, Corpus Christi, was Gaines County Museum Executive Director Roy Lynn Barnes. Barnes recently announced his retirement after several years of service to the museum. He was joined by Assistant to the Director Vicki Cravens-Smith, Friend of the Museum Board Vice-President Kathy Davis, FOM Treasurer Connie Lamm, FOM Public Relations Chair Sam Holbrooks, and FOM volunteer Ray Savage. Individually, each has the option of working toward a Master Certification in all aspects of museum administration and operations. The process is one that takes a minimum of three years, with annual attendance at TAM conferences.
Except for Barnes, a County employee, the trip is self-funded by attendees, who joined more than 300 others at this year's meeting. Late year, Lamm travelled to Fort Worth and Rosenberg, Texas as part of a program committee that organized this year's series of workshops.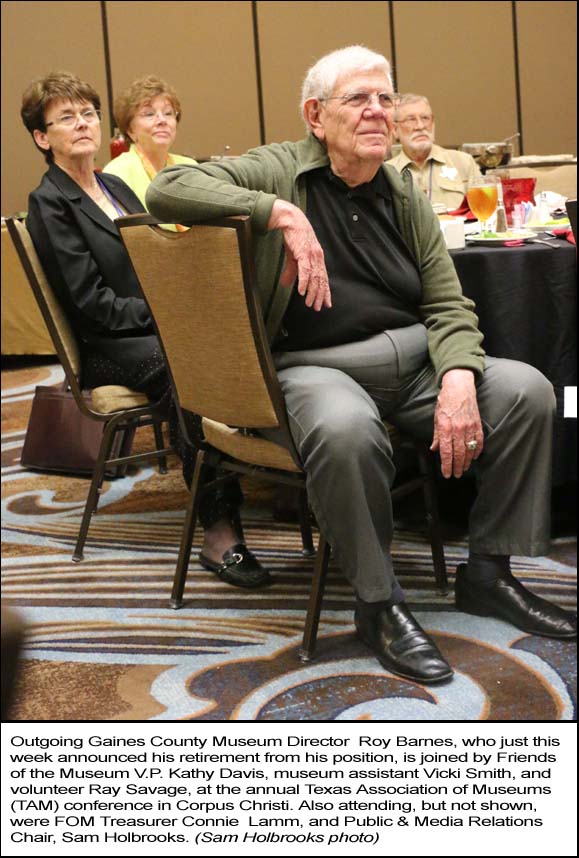 The six areas of focus in the 2016 series of workshops were Administration and Trustee, Resource Development, Exhibitions, Collections Management, Education/Outreach, and Masters Certificate. Each workshop is conducted by a professional in some aspect of museum operations. Attendees moving toward certification must attend at least five workshops that apply to their respective area of focus. A sampling of this year's more than 25 workshops included "Encouraging K-12 Partnerships Using TEKS (Texas Essential Knowledge and Skills), "Building Relationships With the Media", "Finding and Telling the Stories in Your Collections", and "Marketing Mystique and Divine Design".
During the evenings following the meetings, attendees had the opportunity to travel in groups to the Texas State Aquarium, the Art Museum of South Texas, the Corpus Christi Museum of Science and History, the Rockport Center for the Arts, the Texas Maritime Museum, the Fulton Mansion State Historic Site, and the USS Lexington Museum.
Categories: None